MT5 iPhone and MT5 iPad - MetaTrader 5 iOS
Features of MetaTrader 5 Trading App for iOS
Full management of trading account
Work from any location in the world
All order types
Alerts
Compatible with iPhone, iPad and iPod Touch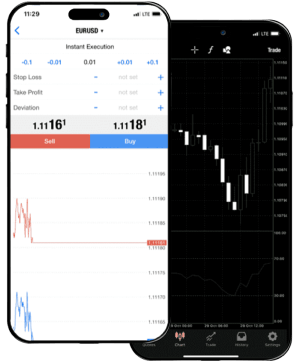 MetaTrader 5 iOS Capacities
MetaTrader 5 iOS is a full-fledged trading app for iOS powered mobile devices. MetaTrader 5 iPhone (MetaTrader 5 iPad) is able to impress any trader by its broad capabilities. Fully functional Forex trading, efficient arsenal of the most critical technical analysis tools (30 technical indicators) and ease of use in everyday activities - all these features are available in MT5 iPhone (MT5 iPad). So, MT5 iOS app offers all you need for successful Forex Trading. You can easily access financial markets from anywhere in the world, at any time and for free. Such possibilities are now available with MetaTrader 5 iPhone. No compromises are tolerated!
How to Download MT5 for iOS
Download MetaTrader 5 for iOS on your smartphone or tablet and trade Forex anytime and anywhere in the world.
2. Select MT5 platform
3. Download & Install
4. Start Trading
Supported languages
English
Arabic
Czech
French
German
Greek
Hindi
Indonesian
Italian
Japanese
Korean
Malay
Polish
Portugese (BR)
Russian
Chinese (CN) - (TW)
Spanish
Turkish
Ukrainian
Vietnamese
Nederlands
Thai
MetaTrader 5 iOS System requirements
MT5 iOS is compatible with iPhone, iPod touch and iPad.
MetaTrader 5 iOS requires a smartphone or tablet PC powered by iOS 4.0 or later.
How to Uninstall MT5 iOS
Tap and hold the MT5 iOS app icon to set it in the movement mode
Tap the X (the cross) in the corner of the app icon
Tap "Delete" option
Press "Home" button when application is removed.