MT4 for Android - MetaTrader 4 Platform
MetaTrader 4 for Android: Features
Full management of trading accounts
Possibility to work from anywhere
All Order Types
Wide range of Technical Indicators
Complete trading history
Download MT4 for Android from Google Play Store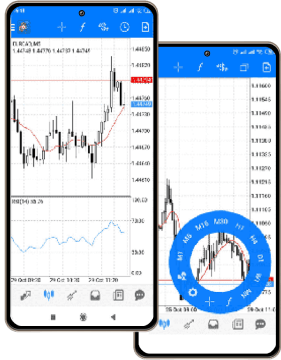 MetaTrader 4 for Android
MetaTrader 4 Android is a full-fledged trading platform for Android OS powered devices.MetaTrader 4 Android is an opportunity for traders to download MetaTrader 4 platform on the devices powered by the popular Android OS.
Complete set of traiding orders, trading history, interactive charts and the widest selection of supported mobile devices - all that is METATRADER 4 for ANDROID.
Wherever you are and whatever you do, Forex will always be with you. Integrated charts provided by the Metatrader 4 Android will help you to determine current dynamics of symbol quotes, trading history will show you all your previous deals, while the powerful trading system will allow you to perform new ones. And all this can be done on the go with your MT4 for Android trading app.
How to Download MT4 for Android
Download MetaTrader 4 for Android on your smartphone or tablet either from the Google Play store or from the
metatrader4.apk
file. Trade Forex anytime, anywhere."
2. Select MT4 platform
3. Download & Install
4. Start Trading
MT4 for Android System Requirements
MT4 for Android System requires a smartphone or tablet PC powered by Android OS 2.1 and higher.
How to Access MT4 Android Account
To access your trading account you should install the trading app MetaTrader 4 for Android on your device with Android operating system, check the connection with the internet and choose the option "Login with existing account"
For opening a demo account or accessing the demo accounts, created from your Profile, please, choose "IFCMarkets-Demo" server.
For accessing the real accounts, created from your Profile, please, choose "IFCMarkets-Real" server.
How to Uninstall MT4 for Android
Go to the list of installed apps
Find MT4 Android trading app
Click on the app
Click on "Remove" button.