Structure
PCI Components and their volume
Swipe table
Parameters
PCI main trading conditions
Swipe table
The volume to calculate Swap and 1 pip value
1
Margin in USD for the volume and leverage of 1:100
93.82 USD
Application field
How can PCI be applied in trading?
It should be noted that that the base part asset trading hours consists of periods of significantly varying liquidity. In the low liquidity trading period from 02:00 – 14:45 (CET) the quotation changes (ticks) may arrive quite infrequently. Therefore sometimes trading of a separate instrument can be blocked at the onset of time-out situations, when the succeeding tick does not arrive for more than 15 minutes. But once the next tick arrives the trading resumes. Since PCI trading can be conducted only during the simultaneous trading hours of all its component assets, the time-out situations for PCIs can occur more often. An "x" sign in the left column of the "Market watch" window notifies about the "time-out" situation in NetTradeX trading terminal. But during the liquid trading hours from 15:30-20:15 (CET) our Grain_4 PCI can practically always be traded.
This personal trading instrument &Grain_4 is used for the analysis and trade of the grain portfolio, multi-year comparative analysis of the behavior of popular exchange grain commodities, as well as grain portfolio dynamics comparison. For example, by building a percentage chart in the NetTradeX terminal for three instruments #C-WHEAT (wheat), #C-CORN (corn) and our grain portfolio &Grain_4 (Fig. 1), it is evident that during the five year period (2010-2014) the wheat and the grain portfolio exhibited similar dynamics, while corn was substantially more expensive during 2.5 years (2011 - summer 2013) but in 2014 the corn price fell considerably below the portfolio price.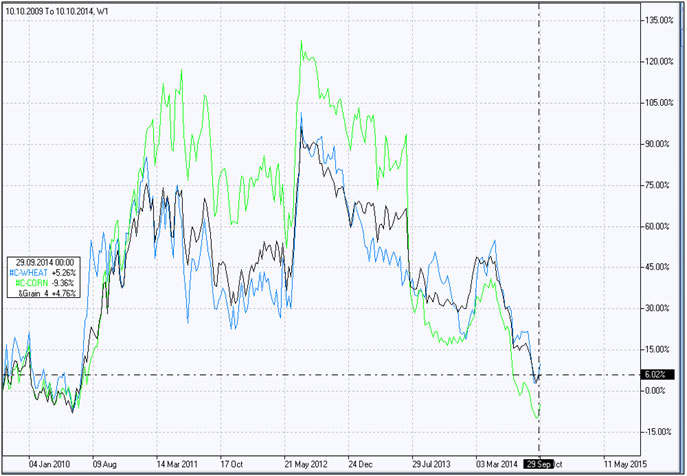 Traders, who specialize in grain commodities and want to smooth the price volatility of separate commodities, will be comfortable trading this PCI.