Structure
PCI Components and their volume
Swipe table
Parameters
PCI main trading conditions
Swipe table
The volume to calculate Swap and 1 pip value
10
Margin in USD for the volume and leverage of 1:100
133.86 USD
Application field
How can PCI be applied in trading?
The personal composite trading instrument &XAUCNH is used for trade and dynamics analysis of Gold vs the Yuan, as well as multi-year comparative analysis of Gold vs. USD and Japanese yen. For example, by building a percentage chart (Chart %) in the NetTradeX terminal for three instruments &XAUCNH, XAUUSD and &XAUJPY (Рict. 1), it is evident that two periods stand out in the last five years: from 2010 to 2012, Gold exhibited almost identical dynamics against the three assets; from 2013-2014, Gold against CNH exhibits almost identical decline dynamics as that of XAUUSD, while Gold against JPY varied substantially less.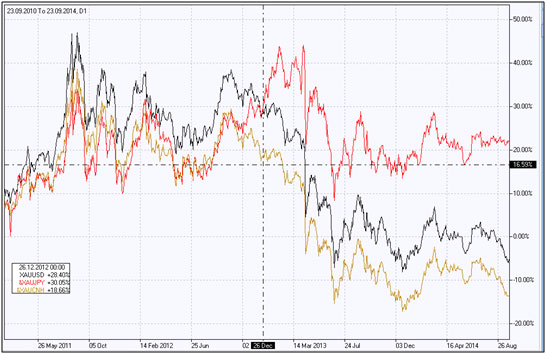 Traders, whose main assets and investments are denominated in Chinese yuan, will be comfortable trading this PCI.