US stocks jumped to third gain in a row
US stock market surged to third successive gain in a row on Thursday as Senate passed $2 trillion economic stimulus package overnight. The S&P 500 extended gains 6.2% to 2630.07. The Dow Jones industrial average advanced 6.4% to 22552.17. Nasdaq composite index rebounded 5.6% to 7797.54. The dollar weakening more than doubled its pace as the Labor Department reported the number of Americans who filed for unemployment insurance for the first time soared to a record 3.28 million last week: live dollar index data show the ICE US Dollar index, a measure of the dollar's strength against a basket of six rival currencies, dropped 1.6% to 99.43 but is higher currently. The historic $2 trillion economic stimulus bill is expected to be voted in the House today and President Donald Trump could sign it into law by Saturday. Futures on three main US stock indices indicate lower openings today.
CAC 40 still ahead of European indexes
European stocks extended gains on Thursday. Both EUR/USD and GBP/USD accelerated their climbs yesterday with Pound higher currently while euro has reversed lower. The Stoxx Europe 600 index advanced 1.8% led by travel and leisure shares. Germany's DAX 30 gained 1.3% to 10000.96. France's CAC 40 rose 2.5% while UK's FTSE 100 added 2.2% to 5815.73 as the Bank of England held interest rates steady and promised more asset purchases if needed.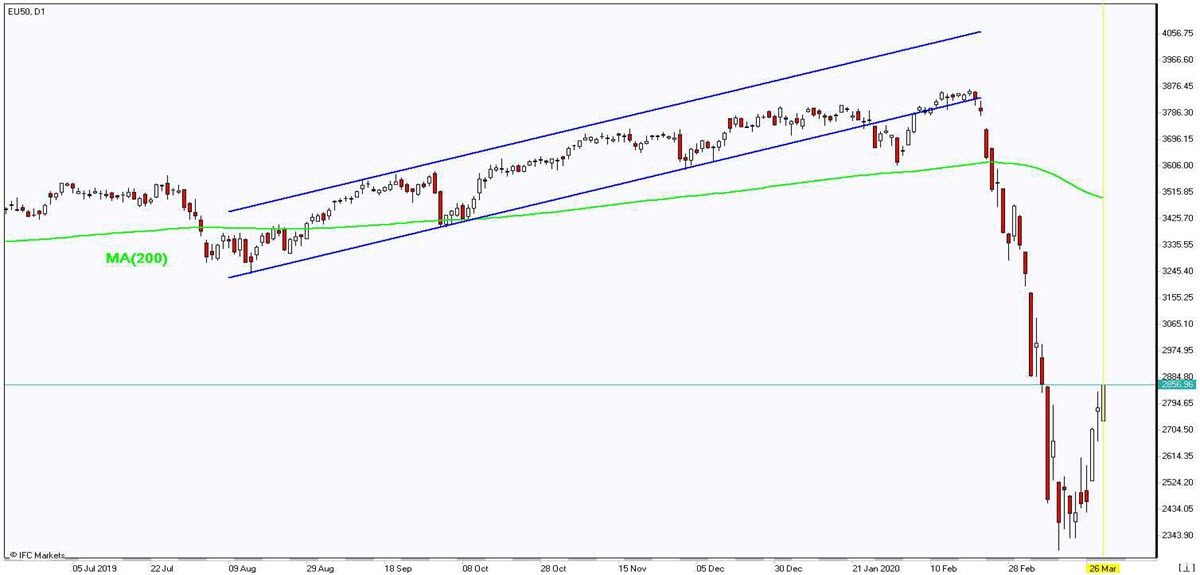 Nikkei rises while Australia's All Ordinaries Index falls
Asian stock indices are mixed today after solid gains on Wall Street for third successive session. Nikkei rose 3.9% to 19389.43 despite yen's continuing climb against the dollar. Markets in China are mixed: the Shanghai Composite Index is up 0.3% while Hong Kong's Hang Seng Index is 0.1% lower. Australia's All Ordinaries Index pulled back 5.3% as the Australian dollar continued its climb against the greenback.
Brent futures prices are extending losses today. Prices retreated yesterday ahead of expiration of the current crude output curbing agreement between the Organization of the Petroleum Exporting Countries and non-member allies such as Russia on March 31. May Brent crude fell 3.8% to $26.34 a barrel on Thursday.
Gold prices are retracing lower today. Prices bounced yesterday: April gold edged up 0.4% to $1638.30 an ounce on Thursday.