US stock market rebounded on Monday as World Health Organization indicated the smallest increase in COVID-19 cases in two weeks were recorded in Italy. Overnight President Trump extended social-distancing guidelines through April 30. The S&P 500 rose 3.4% to 2626.65. Dow Jones industrial advanced 3.2% to 22327.48 as gains in Johnson & Johnson and UnitedHealth offset hefty Boeing loss. The Nasdaq gained 3.6% to7774.15. The dollar weakening reversed as the National Association of Realtors data showed pending home sales jumped 9.4% year over year in February: the live dollar index data show the ICE US Dollar index, a measure of the dollar's strength against a basket of six rival currencies, recovered 0.8% to 99.04 and is higher currently.The President said Monday the US death rate was likely to peak in two weeks and the country would be "well on our way to recovery" by early June. Futures point to higher market openings today.
DAX 30 led European indexes rebound
European stocks rebounded on Monday. Both EUR/USD and GBP/USD reversed climbing yesterday with both pairs lower currently. The Stoxx Europe 600 index advanced 1.1% led by chemicals and healthcare shares supported by report euro-zone's economic sentiment index fell less than expected in March. The DAX 30 rose 1.9% to 9815.97 as German annual inflation declined less than expected in March. France's CAC 40 added 0.6% and UK's FTSE 100 gained 1.0% to 5563.74.
Asian stock indices are mostly higher today following the rebound on Wall Street overnight. Nikkei however lost 0.9% to 18917.01 despite resumed yen decline against the dollar. Markets in China are rising as authorities reported China's manufacturing activity and service sector bounced back stronger than expected in March: the Shanghai Composite Index is up 0.1% and Hong Kong's Hang Seng Index is 1.1% higher. Australia's All Ordinaries Index pulled back 2% as Australian dollar's climb against the greenback continued.
Brent futures prices are edging higher after a sharp drop on Monday. Prices tumbled yesterday on sharp fall in demand as countries implemented quarantine /lockdown measures: May Brent crude closed 8.7% lower at $22.76 a barrel on Monday, dropping 55.5% for the month.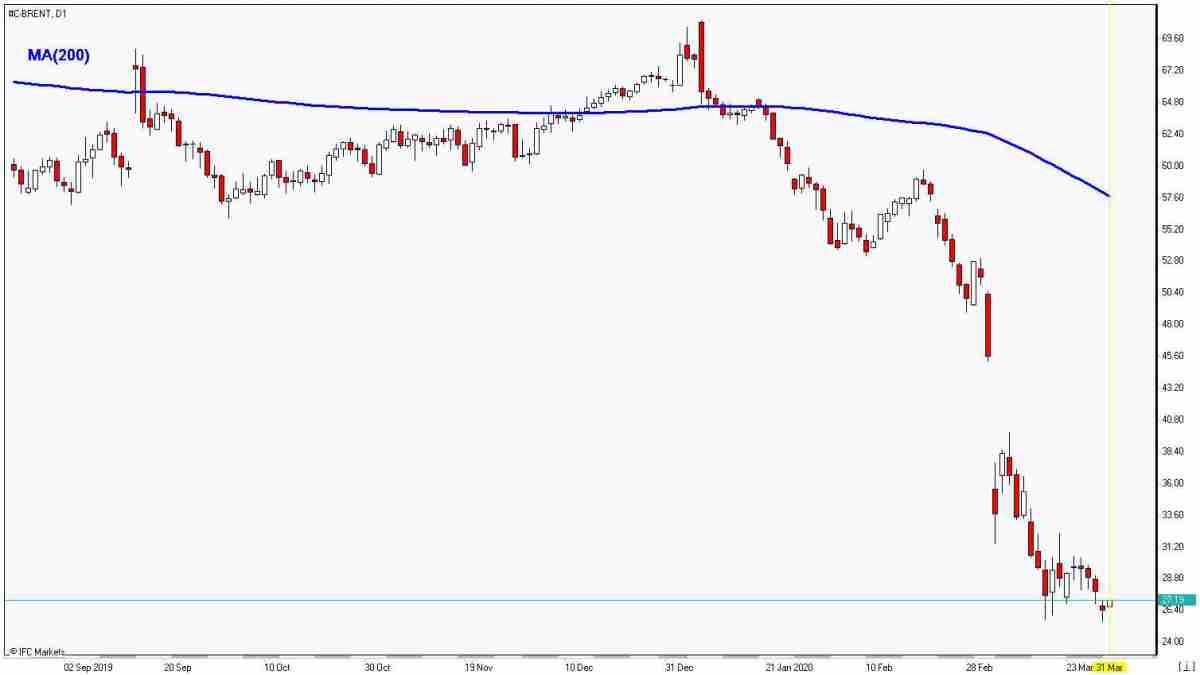 Gold retreats as Dollar resumes strengthening
Gold prices are slipping today. April gold slid 0.2% to $1622 an ounce on Monday.