Connecting to Trading Account
1. Connection to your trading account and the start menu
When opening the application a window opens with the fields for filling out the login from the list (it is opened with an arrow on the right side of "Login") and password for the chosen login (account), as well as the start menu with several functions.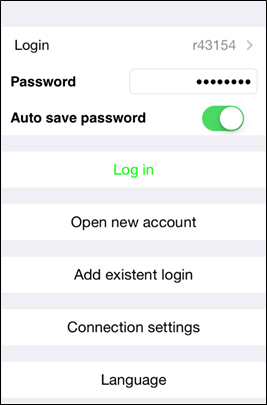 The "Log in" button opens the "Connect" window for several seconds, then the "Account" window with several functions opens automatically: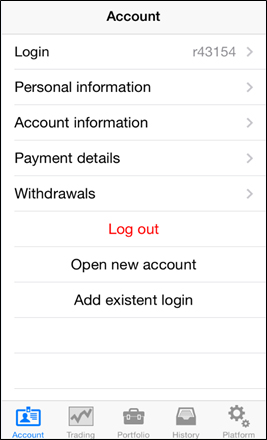 The bottom toolbar contains five tabs: Account, Trading, Portfolio, History and Platform.
The bottom toolbar is also available in many other windows of the terminal.
2. Account properties
The "Account" tab includes personal information, payment details account withdrawals and the account information with the account number (login) and its main parameters: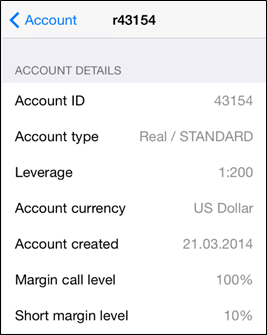 3. Account balance
The "Portfolio" tab includes information about account balance (in the account balance currency), current Profit/Loss for open positions, margin, account leverage and more: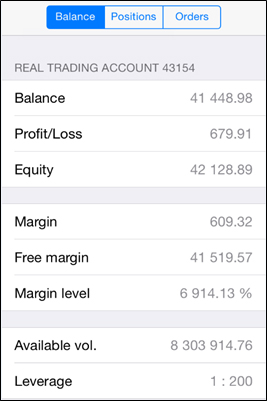 4. Opening of a Demo account
To open a new Demo account, go to the "Account" tab and click on the "Open new account" and "Demo" type - the window with account parameters to set will open: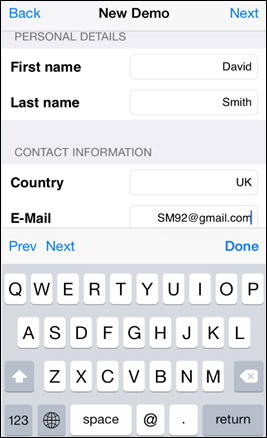 Having completed all the necessary fields (only in Latin characters), press "Next" to see the login and password of the account: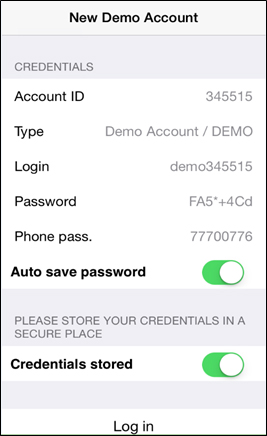 Set the "Auto save password" and "Credentials stored" and click on the "Log in" to start trading.
5. Opening of a Real account
You can open the Real account from your Profile, registered in our website. If you click on the "Open new account" and choose "Real" type, you will see the following: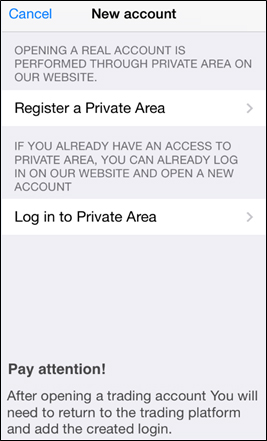 6. Adding the existing login
To add an existing account (login) to your platform you need to choose the "Add existing login" from the start menu, write the account number (rxxxxx if it is real and demoxxxxxx if it is demo), password, auto save password and press "Add login":