WEEKLY TOP GAINERS/LOSERS: 11.04.2018
Top Gainers – The World Market
1. Alcoa Corp. – the growth in stock prices of the aluminum producer company was caused by the message that sanctions against its rival - the Russian company Rusal, were imposed by the US government. In addition, the United States has significantly increased import duties on aluminum. The earnings release of Alcoa for the 1st quarter of 2018 will be published on April 18. It may affect the dynamics of stock prices.
2. Wheat/RUB – prices of the personal composite instrument rose due to the sharp weakening of the Russian ruble amid political risks in Syria. In addition, wheat prices increased in US dollars by almost 8% over a week amid the drought in Argentina and other countries.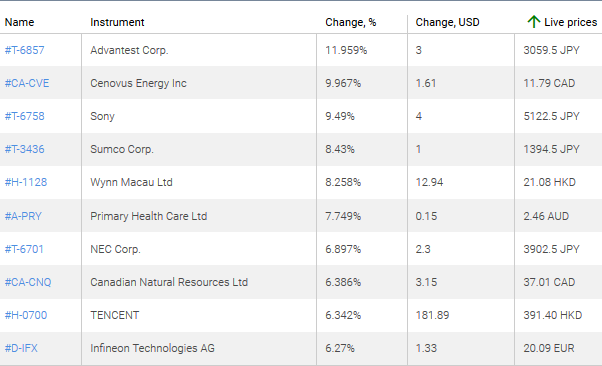 Top Losers – The World Market
1. SBERBANK, AFK Sistema The Russian stock market has sharply collapsed because of the introduction of new sanctions against Russia by the US. In addition, the aggravation of the political situation in Syria had a significant negative impact.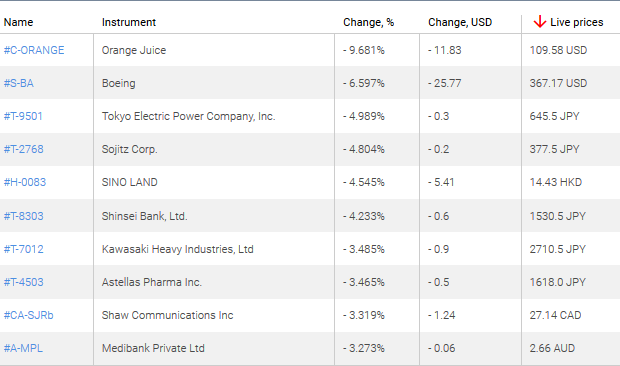 Top Gainers – Foreign Exchange Market (Forex)
1. EURRUB, USDRUB The Russian ruble exchange rate has shown a significant weakening. It shows as an increase on the chart. The new US sanctions and aggravation of the political situation in Syria contributed to this.
2. EURTRY - The Turkish lira weakened because of the political crisis in Syria.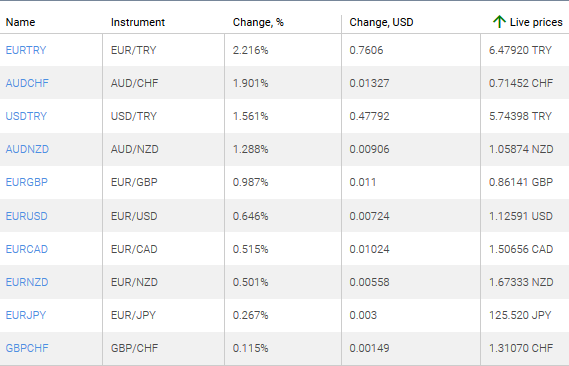 Top Losers - Foreign Exchange Market (Forex)
1. USDCAD, EURCAD The Canadian dollar significantly strengthened due to a good increase in world oil prices. Hydrocarbons are the major part of Canadian exports.
2. USDSEK - The expectations of a rate hike by the Bank of Sweden contributed to the strengthening of the Swedish krona. Its regular meeting will be held on April 26, 2018. The decision on the rate can be made depending on the level of inflation in Sweden.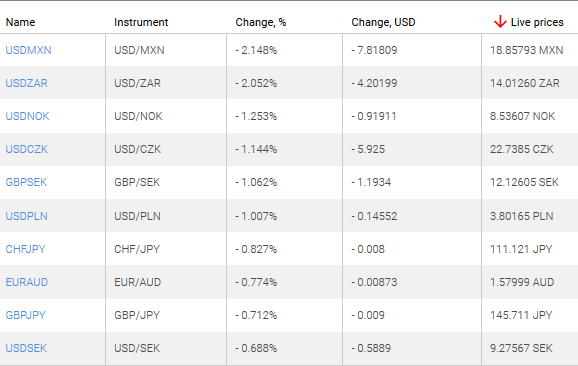 Note: This overview has an informative and tutorial character and is published for free. All the data, included in the overview, are received from public sources, recognized as more or less reliable. Moreover, there is no guarantee that the indicated information is full and precise. Overviews are not updated. The whole information in each overview, including opinion, indicators, charts and anything else, is provided only for familiarization purposes and is not financial advice or а recommendation. The whole text and its any part, as well as the charts cannot be considered as an offer to make a deal with any asset. IFC Markets and its employees under any circumstances are not liable for any action taken by someone else during or after reading the overview.